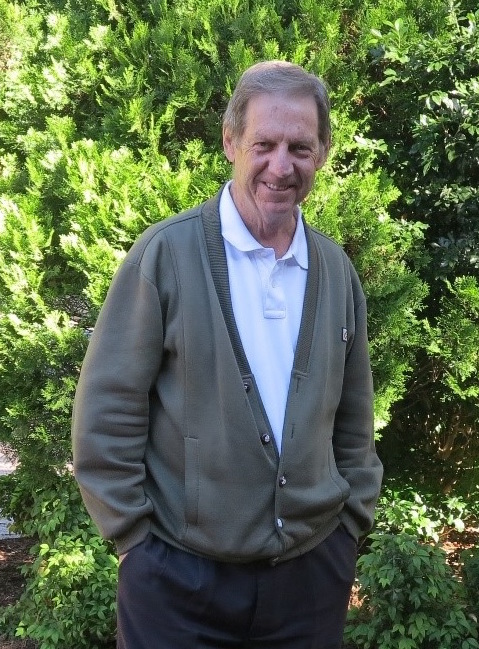 Father Michael Williams - Parish Priest
Born in Sydney, Father Michael went to school at St Bernadette's Lalor Park, St Joseph's Belmore and St Patrick's Strathfield, owing much to the Sisters of St Joseph and to the Christian Brothers.
Upon completing school, he attended two of the great sandstone institutions in Sydney - the University of Sydney and (as it was then) St Patrick's Seminary, Manly. From 1985 to 1988, Michael worked for the NSW Chamber of Commerce and then for two years as an economist for the Westpac Banking Corporation.
Michael was ordained a deacon in 1988, and a priest in 1989. He worked in Nowra for six years, West Wollongong for eight years, and has been parish priest at St Paul's Camden since new year's day 2003.
His interests include the church, sacred music, current affairs, finance, rugby, rugby league, golf, cricket, Aussie Rules and tennis. He takes a passing interest in many other sports.
As a younger man, Father Michael played rugby until the age of 30 and cricket until entering the seminary as a 21-year-old. He continues to play golf at his home club of Camden Lakeside which is a beautiful quintessentially Macarthur course designed by the legendary Peter Thompson. Because of urban development the course is now rather unfortunately under reconfiguration.
Father Michael loves Australian culture though laments that religious practice and moral values are not somewhat stronger. He admits to having a low threshold of tolerance for irreverence and casual conversations during the church's sacred ceremonies. In terms of personal health he has a keen interest in personal fitness though far less a dedicated commitment.
As a priest of 30 years, he looks back upon a three-month Vatican II sabbatical programme in 2002 in the beautiful grounds of the Archdiocesan Seminary of San Francisco as a standout experience - a real highlight.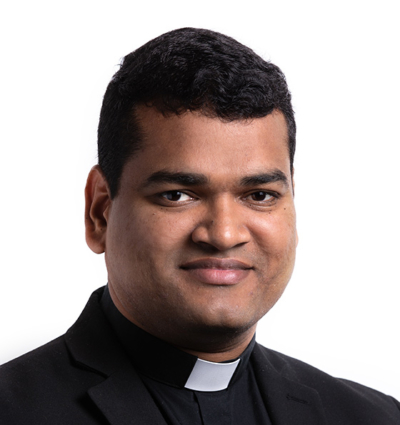 Father Victor Vincent - Assistant Priest
Joined Camden parish during the COVID-19 Pandemic in April 2021 as Assistant Priest.
Father Sean Cullen - at Camden from 1986-1988 - moved and served at St Francis Xavier's Cathedral for many years almost entirely as administrator and dean, and since 2002 has been parish priest of Bowral and Mittagong.
Father Leo Duck - at Camden from 1988-1990 - moved on to a variety of assignments throughout the diocese and studied spiritual theology for two years in Rome. He was assigned since 2002 to the parochial district of Vincentia in the parish of Nowra and is now the parish priest at Albion Park.
Father Mark O'Keefe - at Camden from 1991-1992 - moved to take up positions at Wollongong and Gwynneville and then as parish priest, firstly at Ruse and then at Unanderra since 1997. He now works at Kiama.
Father David Catterall - at Camden in 2001 - moved around the diocese in Nowra, Shellharbour and Rosemeadow, before being assigned as parish priest of Albion Park in 2006. He became the first PP of the newly established parish of Oran Park in 2015.
Father Mark De Battista - at Camden from 2007-2010 - has travelled to Rome to undertake many years of study in Sacred Scripture which includes studies in Aramaic, ancient Greek and Hebrew. He has is now the Administrator of Port Kembla.
Father Richard Healey - at Camden from 2010-2014 as Asssistant Priest.  Is now Asssistant Priest of Campbelltown Parish.
Father Joseph Nguyen - at Camden from 2014-2019 as Asssistant  Priest. Is now Parish Priest of Shellharbour City Parish.
Father Joseph Pothenparampil - at Camden from 2019-2021 as Asssistant Priest. Is now Parish Priest of Nowra.
Father John Whitty - Camden from 1977-2022 – Was instrumental in building the church and presbytery. Served as Pastor Emeritus until November 2018. Retired into local area and continued to serve the parish and minister parishioners up until his death in April 2022.
Other priests still working who have exercised their priestly office in Camden include Father Peter Caruana (now PP Ingleburn), Father David O'Brien (now retired), Father Allan Hartcher (now retired at Waverley), Father Damien Ellis (now Parist Priest of Warrawong and Berkeley parishes), and Father Anthony Crook (Priest in Residence in Corrimal and Chaplain to the Royal Australian Navy).